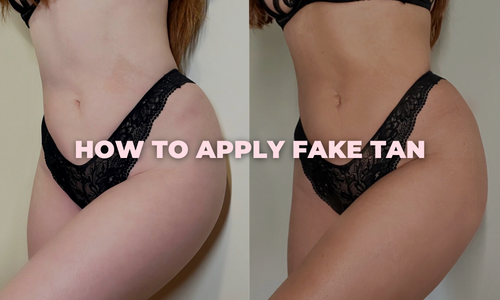 Self-tanning is a popular way to achieve a sun-kissed look without the harmful effects of UV rays. However, applying fake tan can be tricky and lead to streaks, an unnatural color, and even orange skin if not done correctly. To help you achieve a flawless, natural-looking tan, we've put together a step-by-step guide on how to apply fake tan.
Step 1: Preparing your skin The key to a successful fake tan is preparation. Start by exfoliating your skin to remove any dead skin cells and ensure an even application. Pay special attention to areas like your elbows, knees, and ankles, which can be prone to dryness and buildup. You should also shave or wax the day before to avoid irritation.
Step 2: Moisturizing After exfoliating, make sure to moisturize your skin, paying extra attention to dry areas like your elbows, knees, and ankles. This will help to reduce the risk of patchiness and ensure a smooth application.
Step 3: Choosing the right product There are a variety of fake tan products available, including sprays, mousses, and creams. Choose one that suits your skin tone and preference. It's also a good idea to opt for a product that is specifically formulated for the face or body, as facial skin is often more delicate and requires a gentler formula.
Step 4: Application Before applying fake tan, make sure you are in a well-lit room, so you can easily see any missed spots. It's also a good idea to wear gloves to avoid staining your hands.
Start by applying the fake tan to your legs and working your way up, using circular motions to blend the product evenly. Make sure to cover all areas, including your feet, hands, and back.
When applying fake tan to your face, use a lighter hand and blend the product well, paying special attention to the hairline, ears, and neck.
Step 5: Drying time Allow the fake tan to dry completely before getting dressed. This can take anywhere from 10-30 minutes, depending on the product you have chosen. It's best to avoid sweating or showering for a few hours after application to ensure the tan has time to develop.
Step 6: Maintaining your tan To maintain your fake tan, it's important to keep your skin hydrated by moisturizing regularly. Avoid using products that contain alpha hydroxy acids (AHAs) or beta hydroxy acids (BHAs), as these can strip away the fake tan.
Additionally, avoid activities that will cause excessive sweating, like a hot yoga class, as this can cause the fake tan to fade more quickly.
Step 7: Touch-ups To extend the life of your fake tan, consider touch-ups every 2-3 days. Simply apply a small amount of fake tan to the areas that have faded, and blend well.
In conclusion, applying fake tan requires some preparation and care, but with these tips, you can achieve a flawless, natural-looking tan that will have everyone asking for your secret. Remember to choose a product that is appropriate for your skin type and tone, take your time when applying, and keep your skin hydrated for the best results. Happy tanning!