Get A Natural Looking Tan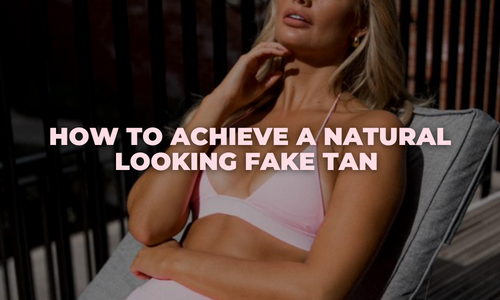 Achieving a natural-looking fake tan can be a bit of a challenge, but with the right products and application techniques, you can easily achieve a believable, sun-kissed glow. In this blog post, we'll go through the steps for achieving a natural-looking fake tan, from preparing your skin to maintaining your tan.
Prepare your skin Before applying any self-tanning products, it's important to prepare your skin. This includes exfoliating to remove any dead skin cells, moisturizing to ensure an even application, and avoiding the use of any oils or lotions that can interfere with the absorption of the self-tanner. It's also important to shave or wax at least 24 hours before self-tanning to avoid any irritation.

Choose the right product The next step is to choose the right product. There are several types of self-tanning products available, including sprays, mousses, and creams. Consider your skin type and the desired result when choosing a product. For example, those with dry skin may benefit from a hydrating self-tanning cream, while those who want a quick and easy application may prefer a spray.

Start with a lighter formula If you're new to self-tanning or have fair skin, it's best to start with a lighter formula and gradually build up the color. This will help you avoid any streaks or patchiness and ensure a more natural-looking tan.

Apply evenly When applying self-tanner, it's important to apply evenly to ensure a natural-looking result. Start by applying the product to your legs and working your way up, making sure to blend well into the creases and folds of your skin. Use a self-tanning mitt or gloves to avoid any discoloration on your hands.

Pay attention to areas that are prone to streaking Areas that are prone to streaking, such as the elbows, knees, and ankles, should be treated with extra care. When applying self-tanner to these areas, make sure to blend well and use a smaller amount of product to avoid any noticeable buildup.

Wait to dress After applying self-tanner, wait at least 10-15 minutes before getting dressed to allow the product to dry completely. This will help to avoid any transfer onto your clothing.

Maintain your tan To maintain your natural-looking fake tan, it's important to moisturize daily and reapply self-tanner every 3-5 days, as needed. You can also use a gradual tanning moisturizer to keep your skin looking sun-kissed all year round.
In conclusion, achieving a natural-looking fake tan is not as difficult as it may seem. By preparing your skin, choosing the right product, starting with a lighter formula, applying evenly, paying attention to areas prone to streaking, waiting to dress, and maintaining your tan, you can easily achieve a beautiful, believable glow. So, go ahead and embrace the beauty of self-tanning!